We're very into exploring Spring – each week the display in our house on the "Nature Table" changes showing the different flowers that are growing in the garden – I would say that we grow but most are either ones that have self seeded or a legacy from the previous owner but they are beautiful and it's fabulous for J and T to see the changes and be part of it.
One of the highlights of May in the UK are Bluebell woods – we're lucky that parts of our garden are perfect for growing these beautiful fairy flowers and although a lot of the ones we have are Spanish Blue bells under the trees in the wildlife area I believe that they are native British Blue Bells. T being able to pick and explore the tiny bells and see them close to means that when she asks "What is it" with the pollen on her finger I can extend it for her and explain about bees and how they collect it and move it from flower to flower.
Around our garden forming an undergrowth and with tall purple flowers appearing are these hardy geraniums – they are always the first of the hardy geraniums that we have to appear and to me signal the start of warmer weather.
A weed in our garden – forget-me-nots grow wild – they are dainty and beautiful and with their bright blue heads T loves to pick them and add them to her flower collection.
Our Nature Table is a window sill in the house – I wish we could have a proper table or at least a surface to display our nature finds and learn/explore about the changing seasons around us instead we use the window sill in the dinning room which looks out on the garden displaying some of our finds and our picks from the garden.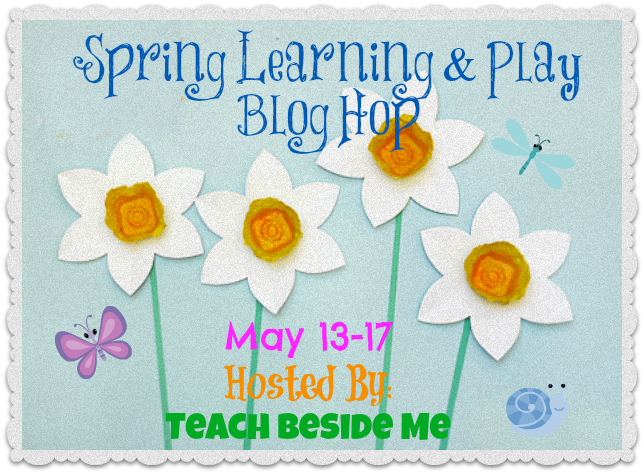 All this week some fabulous blogs are sharing ideas for Spring Learning and Play hosted by Teach Beside Me and co-hosted by different blogs we invite you to link up your Spring Learning and Play Ideas.